DIY ARTIST BOOTCAMP SURVIVAL KITS
MUSIC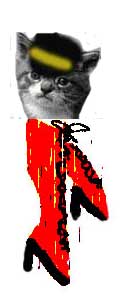 The idea is simple to educate and inspire artist - a bit of physic Q&A in a book, a video, and more
that let you know what you need to know to start on your own artistic ventures.
-------------------------------------------------------------------------------------------
ROUGH SAMPLE INFO PAGE ON DEMOS
Possible info you will find inside:
* Booking venues
* Touring
* Making demos
*Contracts
* Getting air play
* Promotions
* Stage presence
* Music tech 101
* Etc...............
- Booklet with list of:
* Record labels
* Recording studios
* Organizations and Associations
*Venues
* Etc
POSSIBLE QUESTIONS (ROUGH IDEAS):
1) In dealing with venues, what have you found the most important thing to remember?
2) What have you found is the best way to book shows in other cities ( you haven't been in before)?
3) Making your first demo tape - how did you do it? What did you learn from the experience?
4) First air play - what sort of process did you have to go through?
5) Best or strangest promotional idea you ever did or seen done?
6) When booking a venue - what do you look for?
7) What have you found as the best way to approach record labels?
8) What advice would you give to new bands?
9) What would you tell them to look out for?
10) Top motivation for making music?
11) What do you think makes your group differ from other bands?
12) Where do you get inspiration from?
13) Best help you have gotten in the strangest place?
14) How involved are in mixing your recordings?
15) What assistance in promotion do you get from venues?
16) What assistance in promotion do you get from your label (if you have one)?
17) Creating music videos or documentaries of tours- for or against?
18) Merch sales- what merch do sell? or suggest?
19) Do you have a website? Feeling on internet promotions?
20) How do you divid up responsiblities and work load in your band?
21) How important do you find community is to you and your band?

__________________________________________________________________
Fiscal Sponsored by: Intersection for the Arts
Program Director- Melinda Adams
THANK YOU TO Lil Mike
Web help/ training - KittyFeet Media - THANKS!
Thank also to LaughingSquid- THANKS!
THANKS - to all the wonderful folks, who have done workshops and events for me- XOOOX
__________________________________

To Contact Lilycat
me@lilycat.com
or
mskittywhore@yahoo.com
(415) 242-1447
Laugh and learn, grow and create
lilycat.com- artist resources